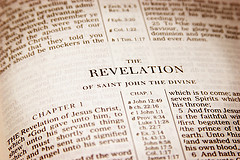 The Book of Revelation
Come find out the views and the purpose and what Christ has to say for us now!
Are you willing to learn about the mysterious Book of Revelation? Do you want to know what its purpose and what Christ has to say for us now? We will carefully examine the Book of Revelation through inductive and exegetical reasoning, word meanings, and archeology, in conjunction what it meant to first century Jews and as compared to the rest of Scripture. We will also examine the four main views from a deductive look and find out it is not so mysterious, after all. In fact, Revelation means "discourser of events," or "uncovering" and not hidden or foreboding!
Introduction to the Book of Revelation and Background Material.
Have you ever wondered what the book of Revelation is all about? Minus the nonsense and feeble theories we theologians (not to mention the sensationalists) seem to come up with, what is its purpose for you now concerning how you live and lead your life? Revelation is a much debated and often misunderstood book. It seems foreboding and unattainable to some, while being over-simplified and twisted by others. But, it does have honest, truthful, and...
Why is the dating of Revelation so important? Because it sets up what approach or view one will take-which of the four. Unlike letters today, the book of Revelation does not come to us postmarked with a date, so scholars and researchers need to make a reasonable assumption about the date of this book from...
This is a basic outline overview of the Book of Revelation
What our Lord Jesus Christ taught on the End Times
The Olivet Discourse PI

Matthew 24:1-28: This is part one of a two part study as a prelude into The Book of Revelation. It is essential we understand the events that are to come and not bow to false teachings or sensationalism, and the best way to do that is see what our Lord Jesus Christ taught on the matter.

The Olivet Discourse PII

This is part two of a two part study as a prelude into The Book of Revelation. The Coming of the Son of Man! A spectacular glimpse to things that will come! Jesus is explaining here, symbolically, the events of the coming...
Apocalyptic, as a term in the common vernacular or dictionary definition, means something that is written in an ominous, threatening way. It is scary, thwarting, and about boding evil. The dictionary tells us it is presaging people of imminent disaster, exaggerated predictions, or allusions of the Last Days. However, this is not what it meant in the original Greek or Hebrew or in the time this term was penned. This means "Exegetical Eschatology" which is seeking what the Bible has to say about end times not what an unwise mind may come up with! What did it mean? It means...
What is your view of "Eschatology" or "End Times?" This is the study of our Christian beliefs concerning all future and final events, such as Jesus' Second coming and the final judgment. How sure are you that your view is correct?
A fifty+ part, verse by verse, Exegetical and Inductive in-depth Bible Study series in

Revelation
http://70030.netministry.com/images/RevelationIntroduction.pdf

http://70030.netministry.com/images/Understandingapolit.pdf

http://70030.netministry.com/images/HowImportantisEschatology.pdf

http://70030.netministry.com/images/BiblicalEschatology.pdf

http://70030.netministry.com/images/OlivetDiscoursep1.pdf

http://70030.netministry.com/images/OlivetDiscoursep2.pdf

http://70030.netministry.com/images/Rapture.pdf

http://70030.netministry.com/images/Revelation11-8.pdf

http://70030.netministry.com/images/Revelation19-20.pdf

http://70030.netministry.com/images/Revelation21-7.pdf

http://70030.netministry.com/images/Revelation28-11.pdf

http://70030.netministry.com/images/Revelation212-17.pdf

http://70030.netministry.com/images/Revelation218-29.pdf

http://70030.netministry.com/images/Revelation31-6.pdf

http://70030.netministry.com/images/Revelation37-13.pdf

http://70030.netministry.com/images/Revelation314-22.pdf

http://70030.netministry.com/images/Revelation41-5.pdf

http://70030.netministry.com/images/Revelation46-11.pdf

http://70030.netministry.com/images/Revelation51-7.pdf

http://70030.netministry.com/images/Revelation58-14.pdf

http://70030.netministry.com/images/Revelation61-8.pdf

http://70030.netministry.com/images/Revelation69-17.pdf

http://70030.netministry.com/images/Revelation71-8.pdf

http://70030.netministry.com/images/Revelation79-17.pdf

http://70030.netministry.com/images/Revelation81-5.pdf

http://70030.netministry.com/images/Revelation86-13.pdf

http://70030.netministry.com/images/Revelation91-11.pdf

http://70030.netministry.com/images/Revelation912-21.pdf

http://70030.netministry.com/images/Revelation101-7.pdf

http://70030.netministry.com/images/Revelation108-11.pdf

http://70030.netministry.com/images/Revelation111-6.pdf

http://70030.netministry.com/images/Revelation117-14.pdf

http://70030.netministry.com/images/Revelation1115-19.pdf

http://70030.netministry.com/images/Revelation121-6.pdf

http://70030.netministry.com/images/Revelation127-12.pdf

http://70030.netministry.com/images/Revelation1213-17.pdf

http://70030.netministry.com/images/Revelation131-4.pdf

http://70030.netministry.com/images/Revelation135-10.pdf

http://70030.netministry.com/images/Revelation1311-18.pdf

http://70030.netministry.com/images/Revelation141-5.pdf

http://70030.netministry.com/images/Revelation146-13.pdf

http://70030.netministry.com/images/Revelation1414-20.pdf

http://70030.netministry.com/images/Revelation151-8.pdf

http://70030.netministry.com/images/Revelation161-11.pdf

http://70030.netministry.com/images/Revelation1612-21.pdf

http://70030.netministry.com/images/Revelation171-5.pdf

http://70030.netministry.com/images/Revelation176-18.pdf

http://70030.netministry.com/images/Revelation181-24.pdf

http://70030.netministry.com/images/Revelation191-10.pdf

http://70030.netministry.com/images/Revelation1911-21.pdf

http://70030.netministry.com/images/Revelation201-6.pdf

http://70030.netministry.com/images/Revelation207-15.pdf

http://70030.netministry.com/images/Revelation211-8.pdf

http://70030.netministry.com/images/Revelation219-27.pdf

http://70030.netministry.com/images/Revelation221-6.pdf

http://70030.netministry.com/images/Revelation227-20.pdf

http://70030.netministry.com/images/Revelation2221.pdf

Write, therefore, what you have seen, what is now and what will take place later. Revelation 1:19